What types and sizes of tap connectors do you make?
We make a variety of tap connectors, please look at our Tap Connectors page on our website to find a suitable connector for you.
My connector keeps popping off my Feeder Hose, how can I fix this?
Please check which Connector you are using. A Hose End Connector should be used at both ends of the Feeder Hose and not an AquaStop Connector.
If you have the AquaStop Connector on the Feeder Hose, this is likely to be the reason for the connector to pop off.
If you have used the correct connector, please check that it has been fit correctly to the hose. If you are unsure of how to connect your Hose End Connector to your hose, please refer to the next frequently asked question in this thread.
How can I secure my Hose End Connector into my hose?
To secure the Hose End Connector to the hose, please ensure that the hose tail on the connector is unscrewed. Then insert the hose so that it fits into the connection grip, once complete push the hose tail back onto the connector, and securely fasten it. Please take a look at our 'How To' video below for guidance.
I have purchased a 1/2" Tap Connector but the tap spout is too small, do you make a smaller size Tap Connector?
The 1/2" Tap Connector is the smallest size we make. You may have a Bib Tap, this is an older tap that requires the hose to be pushed onto it, and clamped into place. You can remove the Bib Tap spout, which will reveal a normal threaded tap.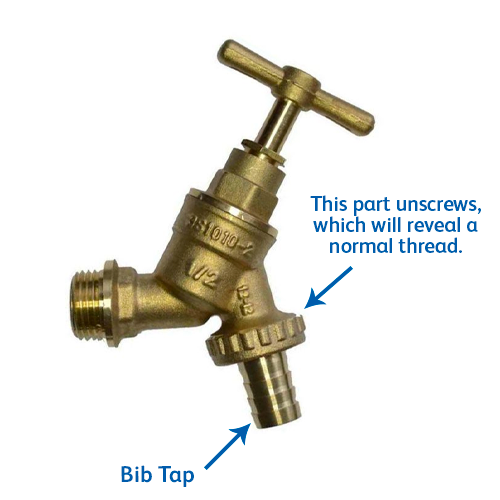 Where can I purchase the small black washers for my male fittings?
These washers are available to purchase from Hozelock stockists or from the Hozelock Spares Website. We sell a 10 Pack of washers, which also includes 5 flat washers, and a 20 pack.
I can hear loud knocking/banging noises coming from my tap, what is it?
You may be experiencing water hammer. Water hammer occurs when the valve in the tap does not sit correctly, and the vibration from this causes a banging noise. It can be resolved by changing the washer in the valve on the tap (you may need to consult with a plumber if you are not confident in doing this yourself) or by purchasing a Hendrickson Pressure Reducer.
I have been advised to get a non-return connector for the tap, so that I can use my pressure washer. Would a standard stop connector work?
No. The reason you need a non-return connector on the tap is to prevent contamination of the mains water. This means you need a Non-Return Connector on the tap. Our non-return tap connectors are also designed to stop water wastage from the end of a hose.