Can I use rechargeable batteries?
It is not recommended. A water controller is usually used to water your garden when you are away. The voltage is usually low in rechargeable batteries (usually 1.2V). Batteries below 2.4V become flat very quickly.

Can I alter the watering period?
You can change it whenever you want. It also has a water now function, watering for an hour or less.
Does this only water at sunrise & sunset?
This controller does not have a timer, just uses light from sunrise and sunset to switch on. You can set the duration of watering during these times.
Does this have a pressure reducer fitted?
No, if you are using a micro-irrigation system you need to add a pressure reducing valve.
Does the Sensor Controller use a daylight sensor?
The Hozelock Sensor features an innovative daylight sensor to automatically adjust your watering schedule to start at sunrise and sunset. No programming required, the daylight sensor automatically adjusts as the seasons change.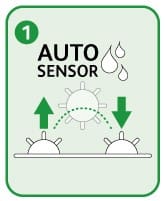 Does the Sensor Controller schedule watering?
You can select from watering duration of 2, 5, 10, 20, 30 or 60 minutes and is easy to adjust in case you need to react to changing weather conditions, without ever having to refer back to the instruction book.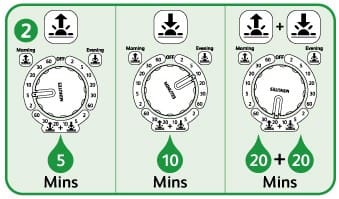 How do I use the 'Water Now' function?
Provides the option to dispense water outside of the automatic schedule. Press the button to select watering for a 10, 30 or 60 minute duration. Simply press again to cancel the operation for shorter periods.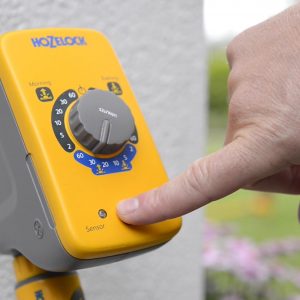 How versatile is the Sensor Controller?
>The Sensor Controller is a versatile unit that can be used with Garden Sprinklers (up to 10 Bar), low pressure micro irrigation watering (1.5 Bar), or Water Butts (0.1 Bar).
Is the Sensor Controller easy to install?
The Sensor Plus Controller is simple and easy to install with your watering system. Screw straight onto a standard garden tap provided with a choice of 21mm (1/2" BSP), 26.5mm (¾" BSP) or 33.3mm (1" BSP) adaptors and insert 2 x AA Batteries (not supplied). Battery operated so no electric wiring needed.