How do I connect the sprinkler to my hose & tap?
To connect to your tap and hose to the Sprinkler, please follow the below instructions:
1. Connect your hose to your tap using Threaded Outdoor Tap Connector or Threaded Outdoor Tap Connector Pro.
2. Attach your Hose End Connector to your hose, and then into the Tap Connector - Hose End Connector, Hose End Connector Plus or Hose End Connector Pro.
3. Attach your AquaStop Connector to the other end of the hose – this stops the water flow when you disconnect your watering accessory.
4. Finally, connect your Round Sprinkler Pro to the AquaStop Connector.
What sort of lawn is this sprinkler best suited for?
This sprinkler is best suited to larger gardens, thanks to its sled base, it is easy to move around the garden, making watering large areas much easier.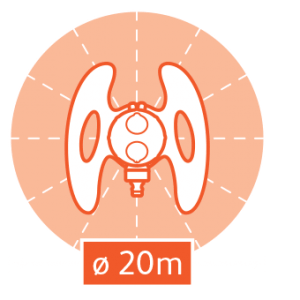 What hose can I use with this sprinkler?
All Hozelock hoses can be used with this sprinkler, including the Superhoze & Tuffhoze. Make sure it is connected using an AquaStop Connector.
Please note: If you are using a Superhoze, the sprinkler could move when the hose retracts, so it is recommended to disconnect the sprinkler from the hose as soon as you turn off the tap.
Can the water flow be adjusted at the sprinkler to reduce the watering area?
Yes. This is a rotating sprinkler, so it can water a full circle or a part of a circle – adjustment is easy, simply slide the red setting rings.
How do I change the spray settings?
To change the spray pattern, grip the top red ring with one hand and rotate the yellow and grey spray head with the other, it will click into position to change between Jet and Fine Spray patterns.
What water pressure can it take?
This sprinkler is designed to rotate evenly at any water pressure between 1-10 bar.
Why has my sprinkler stopped rotating?
1. Check the gauze filter underneath the inlet or along the spray bar (you can unscrew the cleaning tool on the back of the unit to do this) as this can get clogged which will slow the water flow down.
2. It is possible build up of limescale or mineral deposits can build up on the mechanism on the unit, and soaking the sprinkler end in a 50/50 mixture of warm water and vinegar can break this up.
3. Twist or kink the hose to allow the pressure to build up. When you feel the pressure is strong enough release it to try and jump start the motor.
If you have tried all three and the Sprinkler is still not working then it could be faulty. Please contact consumer services on+44 (0) 121 313 1122. Please ensure you have your original proof of purchase available.