How do I connect the sprinkler to my hose & tap?
To connect to your tap and hose to the Sprinkler, please watch our handy 'how to' video: https://vimeo.com/456097136
What sort of lawn is this sprinkler best suited for?
This sprinkler is best suited to round areas, or larger gardens. Thanks to its sled base, it is easy to move around the garden.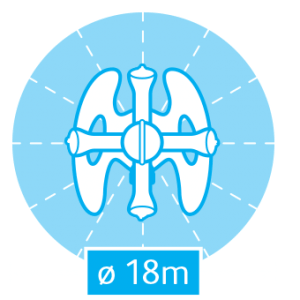 What hose can I use with this sprinkler?
All Hozelock hoses can be used with this sprinkler, including the Superhoze & Tuffhoze. Make sure it is connected using an AquaStop Connector.
Please note: If you are using a Superhoze, the sprinkler could move when the hose retracts, so it is recommended to disconnect the sprinkler from the hose as soon as you turn off the tap.
This sprinkler has been leaking. Why?
The Sprinkler could be faulty. Please contact consumer services by emailing support@hozelock.zendesk.com. Please ensure you have your original proof of purchase available.
Does the spray head rotate and does the spray change in size?
Yes, there are four spray arms, two for the jet spray pattern and two for the fine spray pattern. All arms spin at the same time. There are several fixed jets on each arm so the area is watered evenly.
What coverage can I get when using this sprinkler?
At 4 bar water pressure, this sprinkler achieves an area coverage of 254m² (18m diameter). It is suitable for use at all common household water pressures from 1 - 10 bar. The coverage will vary depending on the water pressure.
Can I attach this sprinkler to a hose cart with hose?
That depends on whether you already have a connector on your hose or not. If you don't, you will need to get another connector. It is recommended to use an AquaStop Connector.