Water seems to be flowing through the bottom, as well as top. How can I fix this?
The Sprinkler could be faulty. Please contact consumer services by emailing support@hozelock.zendesk.com. Please ensure you have your original proof of purchase available.
How do I connect the sprinkler to my hose & tap?
To connect to your tap and hose to the Sprinkler, please follow the below instructions:
1. Connect your hose to your tap using Threaded Outdoor Tap Connector or Threaded Outdoor Tap Connector Pro.
2. Attach your Hose End Connector to your hose, and then into the Tap Connector - Hose End Connector, Hose End Connector Plus or Hose End Connector Pro.
3. Attach your AquaStop Connector to the other end of the hose – this stops the water flow when you disconnect your watering accessory.
4. Finally, connect your chosen Rectangular Garden Sprinkler to the AquaStop Connector.
What size garden is this suitable for?
The area coverage can depend on your water pressure. However, you can adjust the coverage on the sprinklers using the red setting rings. This Sprinkler has been designed to accept all common water pressures. Please see below a guide to area coverage:
How can I reduce or increase the water coverage area?
The sprinkler can water a rectangle or a part of a rectangle. Adjustment is easy, simply slide the red setting rings, as shown below.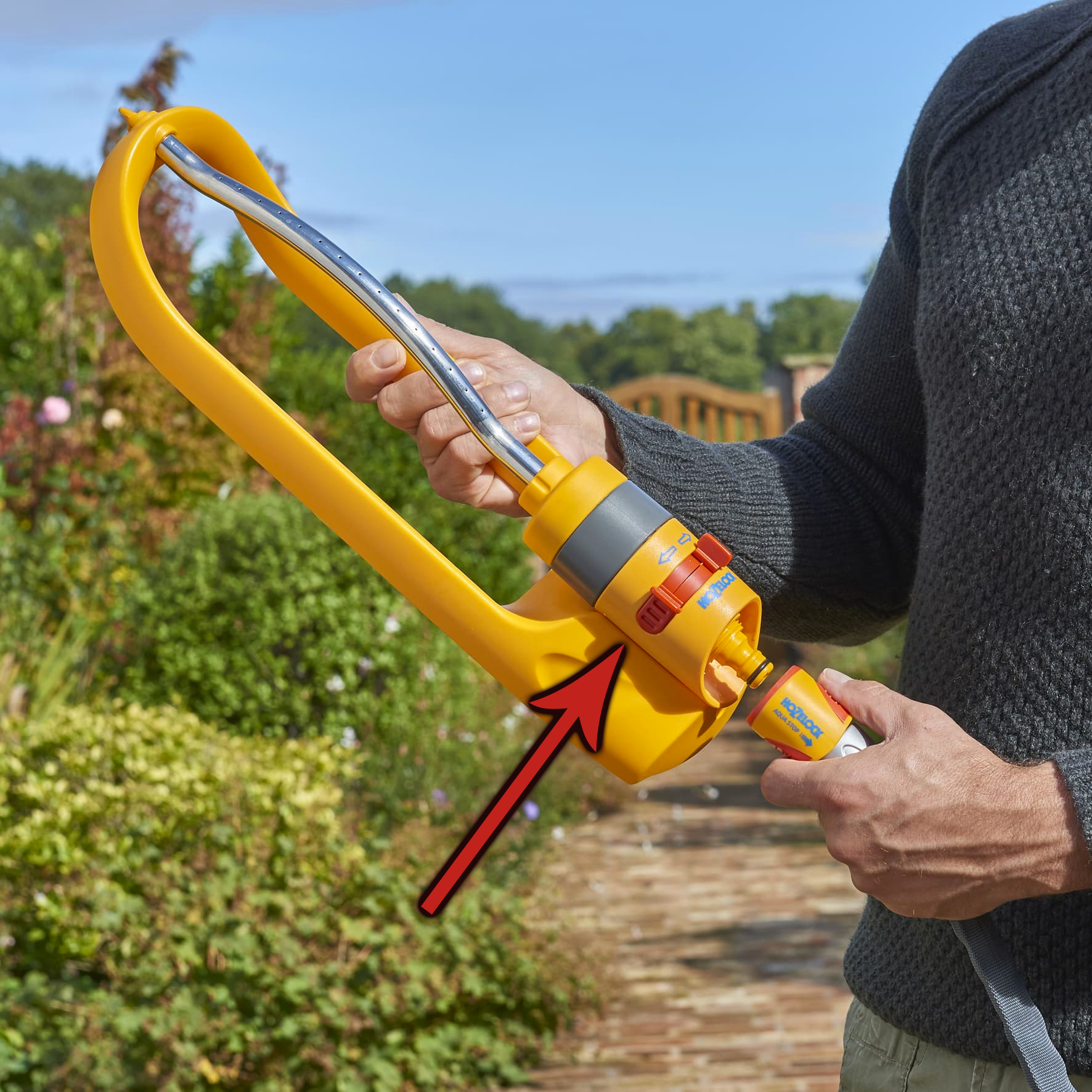 Does this sprinkler work with an expandable hose?
Yes, Sprinklers can be used with Superhoze.
Can I use it with my hose storage or Auto Reel?
Yes, all Hozelock sprinklers can be used with a Hozelock Reel or Cart.
Why does the sprinkler oscillator water further in one direction than the other?
Check the red setting rings to ensure they are in the correct position for the area you need to water.
What is the minimum pressure for the sprinkler to work efficiently?
This sprinkler has been designed to work with water pressures between 1-10 bar.
What happens if my sprinkler jams or stops oscillating?
If you experience problems with jamming or oscillation, it is possible for limescale to build up on the internal mechanism of the sprinklers, and cause it to jam or to stop oscillating as it should. please try the following:
1. Soak the sprinkler in a bowl of 50/50 water and vinegar for about half an hour to dissolve away any limescale.
2. Sometimes a piece of dirt or grit can get caught in the workings of the oscillator. Putting a small amount of WD40 into the sprinkler at the end where the water goes in should remove this.
3. Turn the water on full power and then kink the hose back on itself a few inches from the sprinkler to stop the flow. Hold it for a few seconds to build up pressure and then release. This can sometimes be sufficient to dislodge any particles that may be jamming inside.
4. Check that the small filter inside the male connector is clean.
We have also made a video to help you when it comes to cleaning and maintaining your sprinkler, which can be viewed here: https://www.hozelock.com/product/rectangular-sprinkler-plus

If after following these suggestions the sprinkler is still not working correctly, the Sprinkler could be faulty. Please contact consumer services on+44 (0) 121 313 1122. Please ensure you have your original proof of purchase available.