How do I connect the sprinkler to my hose & tap?
To connect to your tap and hose to the Sprinkler, please follow our handy 'how to' video: https://vimeo.com/439908839
What sort of lawn is this sprinkler best suited for?
This sprinkler is best suited to round areas, as most of the spray patterns are circular. It also has a square spray pattern for square lawns of up to 7m x 7m. For rectangular lawns, an oscillating Rectangular Sprinkler is recommended.
Does this sprinkler have different spray patterns?
Yes, this sprinkler has 8 different spray patterns to suit all watering shapes & types. The patterns are: Mist, strip, large circle, remote jet, semi circle, small square, small circle. Simply twist the dial to the pattern you wish to use. To see the spray patterns and how to change them, please take a look at our 'how to' video: https://vimeo.com/439908839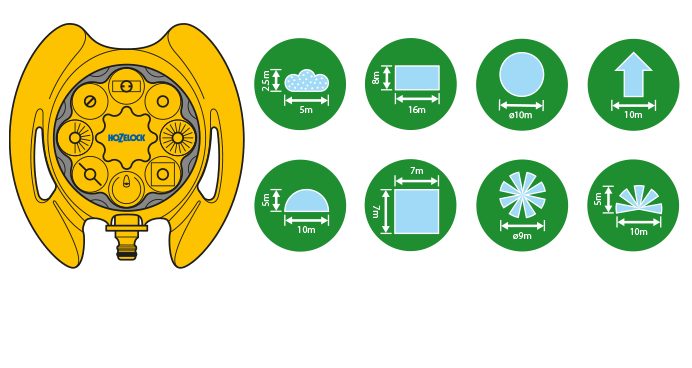 What hose can I use with this sprinkler?
All Hozelock hoses can be used with this sprinkler, including the Superhoze & Tuffhoze. Make sure it is connected using an AquaStop Connector.
Please note: If you are using a Superhoze, the sprinkler could move when the hose retracts, so it is recommended to disconnect the sprinkler from the hose as soon as you turn off the tap.
If I have a square garden, where do I place this and what setting?
This sprinkler is very easy to set up. Connect it to a tap, place the sprinkler in the middle of your lawn and choose the "Square" pattern.
This sprinkler has been leaking from underneath, no matter what setting it is on. Why?
The Sprinkler could be faulty. Please contact consumer services on+44 (0) 121 313 1122. Please ensure you have your original proof of purchase available.